Ditch The New Year's Resolution For Monthly Goals—12 Ideas To Improve Your Career
By
Caroline Ceniza-Levine '93BC
December 22, 2020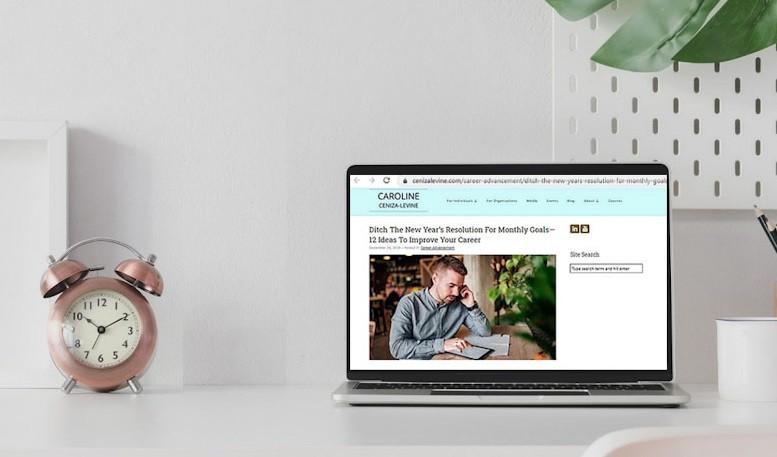 Get a head start to 2021 with Caroline Cenzia-Levine '93BC's 12 ideas to improve your career in the new year.
A new year is a naturally introspective time, and you may already have some resolutions identified. However, in lieu of one, two, or three big goals for the year, considering targeting monthly goals that can be tackled throughout the year. This way, every month offers a fresh start, and you can build on your newfound good habits over time.
Here are 12 ideas for monthly goals that improve your career:
1 – Do something different
You don't need to get promoted or change jobs in order to improve your career, but there should be something different about the way you work on an ongoing basis—what you're working on or how you work. If not, then you're at risk of stagnating or falling behind.
Start with updating your resume so you can see what changes you have already made most recently. Then, make a wish list of other changes you would like. Sure, some will take time – like a promotion or a new job. But you may be able to effect some changes sooner than you realize. Are there tasks you can delegate? Are there clients or projects you want to work on? Are there skills you want to learn?
2 – Exercise your gut instinct
When you think about career moves, how do you decide? Too often, we listen to others over ourselves. We rely on a pros and cons analysis over a feeling or notion. I'm not suggesting that you don't get outside counsel or analyze the facts. However, if you already do that, you may benefit from exercising your gut instinct more.
Start by noticing how you feel whenever a decision comes up. What does an easy decision feel like? Does the relief feel like a clear head, a steady heartbeat, a calm stomach? On the flip side, when you worry, do you feel it in your head, throat, heart, or somewhere else? Being aware of how you feel and checking in with your feels as you make everyday decisions will help strengthen your gut instinct when you have to make the tough calls.
3 – Follow your interests
Like dismissing your gut instinct, too often we dismiss our interests and preferences in favor of what we think we should do or what is more prestigious, pays more, or fulfills some other external mark of achievement. Over time, you risk losing your own internal compass.
Plan some fun activities for the month with no specific career payoff. Read what you want. Attend events and lectures on topics of interest, even if they're unrelated to your work. Redirect the extra hour each night that you might spend catching up on email to spend on a hobby instead. It might seem like you're taking away from career time, but confirming what you enjoy and allowing yourself that pleasure is a long-term career investment. Ideally, this becomes a habit you continue well past this month. At the very least, give yourself one month to see for yourself that 1) you do have time for yourself and 2) it's time well spent.
4 – Manage your energy
Doing more of what you enjoy is one way to infuse more energy into your day-to-day. Paying attention to when you have more energy and then reassigning tasks based on your energy level is another way to manage your energy. Experiment with different energy triggers, such as listening to music while you work (or blocking out all noise), being around people (or not), or changing when and how long you take work breaks.
Read The Power of Full Engagement by Jim Loehr and Tony Schwartz, which is the best resource I know of on best practices for energy management. Keep an energy log to track your energy levels. Keep a food diary if you want to see which foods work for you energy-wise. Play around with when you sleep and when you wake.
5 – Take lunch breaks
Whatever you decide about other work breaks, spend a month actually taking your lunch breaks. Take your full break, and try different things with the time. Take a walk outside. Eat with people—remember to diversify your network in your department and other departments, in your company and outside, in your industry and not. Use your time to go back to your other new habits, like following your interests or doing something different!
6 – Learn something new
Even if you pick something unrelated to your current job, exercising your brain in a new way, strengthening your discipline, and experiencing a beginner mindset again are all actions that support your career. There are lots of classes available online, many for free. If you're a live learner, you can look into community college classes, workshops at the local library, or Meetup groups. If you want to do something career-specific, see if your company offers training in-house or pays for classes or conferences.
7 – Meet new people
Just like a career can atrophy, so can your network. You connect with the same people again and again, you belong to the same groups, you attend the same conferences. If your network is too insular, your thinking becomes too insular, and you might miss important trends that start in other industries and regions.
This monthly goal can be layered on top of learning new things, taking your lunch break, and following your interests. You can meet new people at your new activities. You can also join employee resource groups or ask to be staffed on a cross-functional project. (When I worked in in-house HR, we were always looking for people to help at recruiting events.) If you have a particularly social friend, ask for their help.
8 – Follow up more regularly
Of course, it's not just about meeting more and more people, but also keeping in touch with people you have already met over time. You can use your resume as a prompt to remind you of all the people you have encountered – classmates, colleagues, clients, professors, bosses, and advisors. Most people can come up with at least 100 names of people they know but haven't kept up with.
Take this month to actually follow up and say Hello. If you reach out to only 3 people a day, you can reconnect with 90 people in one month!
9 – Set better boundaries
I wrote in a recent post about my friend who took on all the extra work while her colleague got the promotion. A promotion is never guaranteed, but if my friend wants acknowledgment for her extra work and it hasn't come, then a boundary has been breached, and she needs to rebuild it.
If you're stumped on what boundaries you need to set, think of instances that you wished you handled differently. What would you want to change? Can you change it now? Maybe you have a colleague who asks for too much help or who talks too much when you need to concentrate. Maybe your boss often gives work at the last minute. Maybe you accepted a salary or title that's too low, and you need to renegotiate (you can always renegotiate!).
10 – Speak up
Speaking up about what you need is one example of setting boundaries, but it is also a separate and distinct skill. Speaking up is about making your voice heard. For one full month, speak up in every meeting you attend – you can start by asking a question or paraphrasing what already has been said. You can build on this skill by contributing original ideas or insights.
Then move into public speaking, which is a great way to establish yourself as an expert in your field. Present at internal meetings, moderate or speak on a panel at an external professional event, or be a guest speaker at your alma mater. If your company allows you to publish or speak to the media, consider generating publicity for your personal brand.
11 – Build a solid financial foundation
With longer life expectancies come longer career trajectories. Now everyone has to know how to manage their earnings for the long haul. I have written before about how debilitating job loss can be so good career management must include good money management. Investing a full month into getting your financial ducks in a row is also a career investment.
There are many actions you can take to shore up your finances: Check your credit – some employers run credit checks during the employment background check process. Review your benefits to make sure you're taking full advantage of everything your company offers. Talk to your accountant to see what tax-related moves you need to make. Look at your retirement and other savings to see how much you have independent from your job and hopefully jumpstart your interest in adding to these accounts. Declutter your closet and sell unwanted items for a cash infusion. Pick up a side hustle for an additional cash infusion.
12 – Use your imagination
Even if you love your career just as it is, changes in your industry or in the broader economy might change your beloved employer and/or role. So being nimble and open-minded are good traits to exercise. Since we can't predict everything, one way to stay flexible is to practice using your imagination. Spend a few minutes each day writing in a journal or visualizing different scenarios.
For example, create three (or more) stories for your life that are all different – 1) you keep your job; 2) you leave to do X; 3) you leave to do Y. Just let your imagination run wild, and don't censor yourself based on what seems doable. Follow different threads further out from there – i.e., create more stories based on where those initial stories ended up. Or create a story for moving to a different country, or starting a business (or going back to a job if you are currently running a business).
---
You don't need to make a big change to make a big impact on your career
The above suggestions are just 30-day commitments (though hopefully you'll continue these skills and activities for longer). Getting a new job isn't the only new year's resolution that can have a big impact on your career. You can change your career prospects without changing your job, but by developing yourself professionally and personally right where you are.
This post originally appeared in my Careers column on Forbes and on Caroline Ceniza-Levine's website.
Caroline Ceniza-Levine is a longtime recruiter turned career coach and media expert on the job market. She has coached executives from Amazon, American Express, Condé Nast, Goldman Sachs, Google, McKinsey, Tesla, and other leading firms. She has been a repeat TV guest on CBS, CNN, CNBC, and Fox Business and has been quoted in major media outlets, including BusinessWeek, Entrepreneur, Fast Company, Fortune, Inc, NPR, and Success Magazine. Ceniza-Levine is a career columnist for Forbes.com and formerly wrote for Money.com, Time.com, CNBC, and Portfolio. She is the author of three books, including Jump Ship: 10 Steps To Starting A New Career.
Learn more about Ceniza-Levine and view the full Columbia Career Coaches Network