Leaders Experience Reflections
By
Shaun Hoyte '16SPS and Courtney Cesari '04CC
October 07, 2022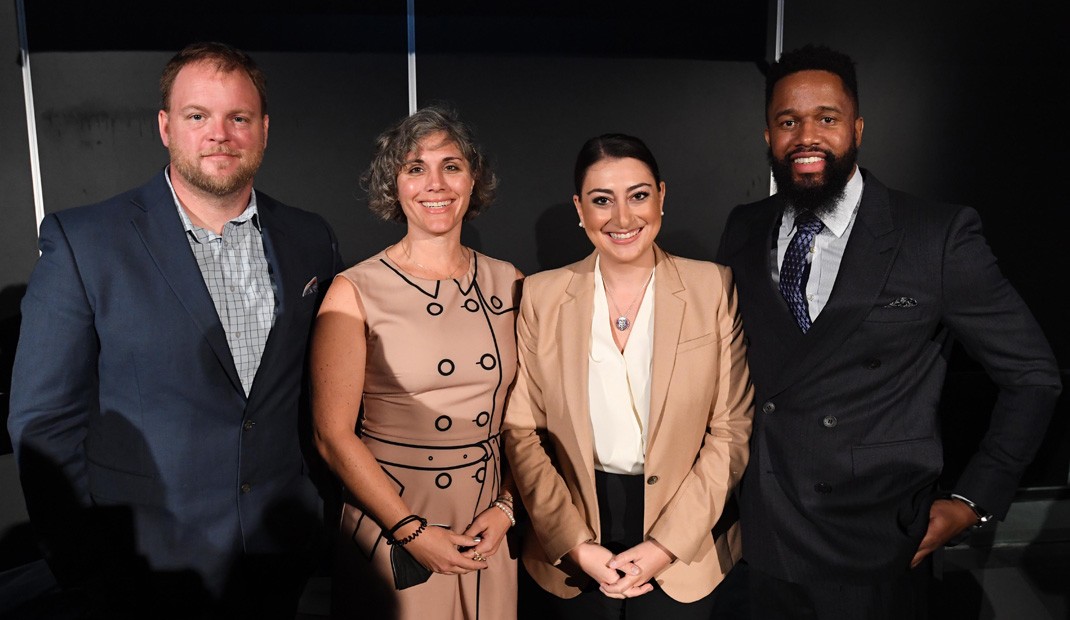 Columbia Alumni Leaders Experience is an annual conference where the University's top alumni leaders and volunteers gather to exchange best practices, advice, and ideas. 
Held in-person for the first time since 2019, this year's chair, Shaun Hoyte '16SPS, and co-chair, Courtney Cesari '04CC, want to express gratitude to the incredible student and alumni leaders, faculty, staff, family, and friends that came together to create a weekend filled with inspiration.
[S] I'm still in awe of this year's Leaders Experience, it was significant in so many ways—my heart and mind are filled to the brim. Working with our incredible Leaders Experience Steering Committee on programming over the past nine months was nothing short of amazing. So many great ideas and valuable perspectives were shared, and they all became very real when the conference kicked off on September 30 with a fireside chat followed by a tour of Columbia's new Manhattanville campus. 
[C] If I'm being completely transparent, although I've been to many Leaders Weekends before, I didn't realize what a HUGE deal this year's event was (despite 9+ months of work!) until we got there and it was happening. 
As a regional Club leader, we spent the rest of Friday—together with the Shared Interest Groups—in International House sharing best practices in a program organized by subcommittee co-Chairs John Mullervy '00SEAS and Lucia Manzo '08CC, who even arranged for all of the 60 regional club flags to be hung in the banquet hall—such a considerate touch. That night things really kicked off in Lenfest Center for the Arts where CAA co-chairs Michelle Estilo Kaiser '87CC, '92PH, '97VPS and Mary Kuo '92CC welcomed everyone and introduced our fearless leader for the weekend…you (Shaun)!
[S] Thank you for the kind words, but there's absolutely no way this would be possible without you as my sidekick (Courtney). We were given the nickname "Shourtney"—for better or worse. We of course couldn't have done anything without the hard work and dedication of the CAA staff—we bow down.
Back to the program, I really enjoyed the opening reception—man was it great to be back in person! I met some extremely passionate leaders from across the University, some of whom will undoubtedly become lifelong friends. This was the perfect start to the weekend ahead of Saturday's programming, where you shared some remarks in the morning during breakfast.  
[C] Saturday was FULL ON. I know you and I took great pains to have new and potentially difficult topics addressed in the panels. Going by feedback—the panels were an absolute hit and people loved taking on difficult topics such as career transitions, leading in challenging contexts, and using Columbia resources for social justice causes. 
I learned so much from Congresswoman Sara Jacobs '11CC, '12SIPA, especially about the hard work needed with our military vets, particularly in terms of housing. Thomas Brennan '15JRN brought such a poised and personal angle to the interview, being a vet himself. And then our last luncheon with President Bollinger! Bittersweet, but man did he, Wanda [Holland-Greene '89CC, '91TC, '21TC], and Jonathan [Lavine '88CC] really bring on the inspiration during their chat. I felt empowered enough to go run a marathon after lunch!
[S] It's on that discussion that I'd like to reflect for a moment. 
University Trustee Wanda Holland Greene serenaded the audience with a beautiful song, then went on to discuss how "We Are Bound—destined together, closely tied, by our shared love for Columbia University and by our collective belief in the power of this University to address some of the world's greatest challenges." Such a powerful message and perfectly timed heading into the festivities for the evening. 
[C] Shaun, there is nothing like entering Low Library, dressed up and ready to celebrate fellow volunteers. Just walking inside that building and thinking of its heritage is awe-inspiring. Then when you start hearing what the awarded Clubs and Volunteers are doing out in the world…it's jaw-dropping. 
[S] In fact, your club, the Columbia University Club of London won this year's CAA Global Award of Excellence, didn't it? Along with the Columbia University Club of  Washington, D.C. winning the CAA Domestic Award of Excellence! Congratulations to both Clubs, along with all of the other Clubs and SIGs around the world who work hard to represent CAA.
We'd be remiss not to give a shout-out to all of our inspiring CAA Alumni Medalists. You can view the video profiles about them here.  We know more than one attendee who teared up while watching the videos and in fact, the buzz afterward was that this had become the Oscars of the CAA. We'd love to carry on that tradition!
[C] Shaun, I know the word of the weekend was "bond," but for me that night, I really felt that I belonged. I was so overcome, thinking back on the rich experiences and lessons of the weekend, surrounded by so many dear friends that I would not have were it not for the CAA. 
[S] So true, Courtney. I've received several messages from attendees citing how this opportunity was life-changing. The value and mission of the CAA hasn't gone unnoticed! And I cannot wait to see the flicks from the weekend, everyone looked truly amazing. 
[S&C] To all who traveled from either overseas or domestic locations, blocking off your calendars to attend this year's Columbia Alumni Leaders Experience, we thank you! And as we return to our respective homes and routines, we're not only thinking about the highlights of the weekend but why we gather like this. 
The chance to bring together current and future leaders, to leverage incredible lived experiences, and reflect on the wisdom, courage, and strength of this collection of minds and hearts is simply unmatched. It's a gift. 
This past weekend invited us to return to the exploration and inspiration of our time as students. To remember the gift and honor of our time at this University. What Columbia gave to us, and what it asked of us. To bring our talent to the world. To contribute. To rise to the challenges that meet us, no matter our field. To be bound to one another. 
And now as we return to work, to deadlines and challenges and opportunities, we find ourselves more inspired than ever to dive back in. To solve. And to rise. 
With gratitude,
Shaun and Courtney