2023 Campbell Award Winners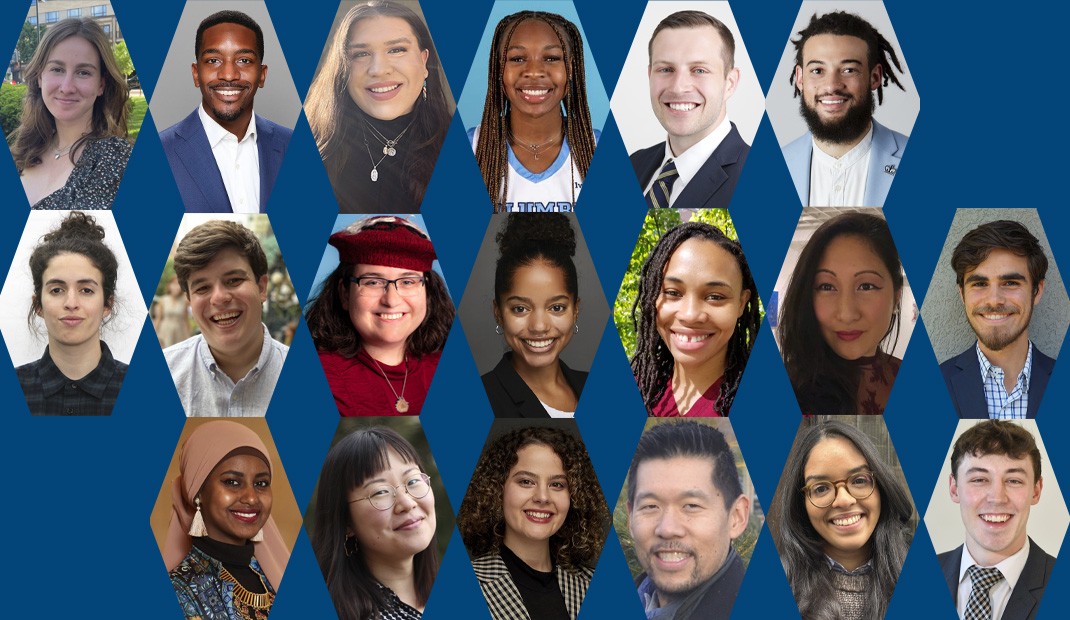 In 2016, the Columbia University Trustees and the Columbia Alumni Association (CAA) established the Campbell Award, which is presented to a graduating student at each School who shows exceptional leadership and Columbia spirit as exemplified by the late Bill Campbell '62CC, '64TC, University Trustee Chair Emeritus and CAA co-founder.
Congratulations to the 2023 recipients! Here, listed alphabetically by school, are this year's inspiring, soon-to-be alumni: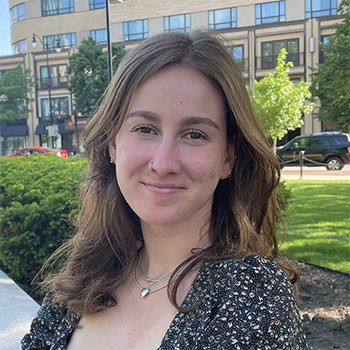 Hilda Gitchell '23BC (she/her) is from Chevy Chase, MD, majoring in History. She is the senior representative to the Board of Trustees and the representative for Food and Dining on Barnard's Student Government Association. She works as a lifeguard and building manager at Dodge Fitness Center and is one of the editors of the Barnard yearbook. Additionally, she was an orientation coordinator for Barnard NSOP in the fall of 2022. In her free time, she likes to play piano, watch Columbia Women's Basketball, and spend lots of time with her friends.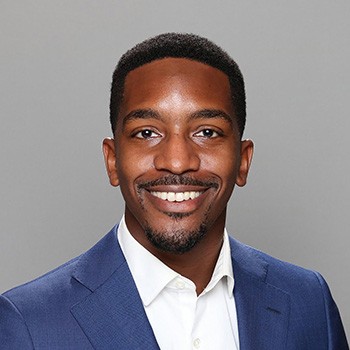 Martavius Leonard '23BUS (he/his) is a native of Thomaston, GA, and is a 2nd year MBA candidate with a focus on media and entertainment. Martavius is also actively involved on campus and serves as the co-President of the Black Business Students Association, Peer Advisor & Cluster Lead, Follies VP of Production, AVP of Careers of the Media Management Association, and more. As a musician, singer, songwriter, and content creator, Martavius combines his love for creativity with his passion for solving complex business problems by aiding fellow creators to increase revenue generation opportunities and by establishing sustainable business support mechanisms for industry creatives.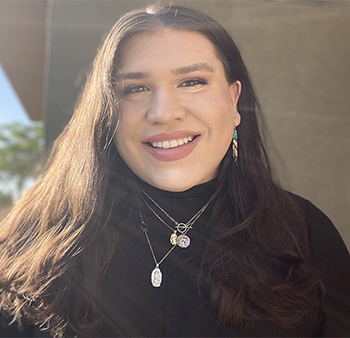 Saxon Stahl '23CS (they/theirs) is from Temecula, California, with roots in the Pascua Yaqui Tribe in Southern Arizona, and is a Climate and Society graduate candidate at the Columbia Climate School. With their background in Environmental Studies and Political Science, Saxon joined the Climate School with the goal of amplifying the role of climate policy in governance. At Columbia, they are the founder of the Columbia Climate Graduate Council, the official student government of the Climate School, and the current vice president of administration for the GSAS Arts and Sciences Graduate Council. Saxon plans to use their experience to work in Capitol Hill and help create climate policies that move the US towards reducing greenhouse gas emissions.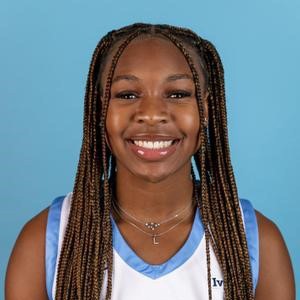 Lilian Kennedy '23CC (she/her) is from Buford, GA, and is pursuing a major in Psychology in addition to a concentration in Computer Science. She is a member of the varsity women's basketball team, a two-time captain, vice president of the Black Student Athlete Alliance, a member of their first e-board, and a dedicated volunteer in our local Harlem communities. Lilian has been a leader in the athletics space throughout her time on campus making an impact amongst athletes, leading service initiatives, and providing mentorship for other student-athletes both within the College and beyond.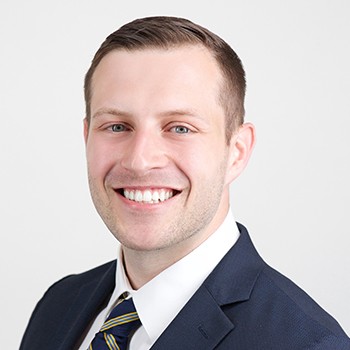 Nolan Allan Wendling '23DM (he/him) is from New Lothrop, MI, and will be graduating with his Doctorate of Dental Surgery (DDS). During his time at Columbia, Nolan served as vice president of his class and president of the Student Government Association. Nolan also served on the ASDA Social Committee, volunteered for the Columbia Student Service Core, had a role as a teaching assistant, and published multiple peer-reviewed scientific articles. In his free time, he enjoys playing basketball and rooting for his alma mater, the University of Michigan. Nolan is excited to continue his journey at the St. Louis University Center for Advanced Dental Education for his Orthodontics residency next year.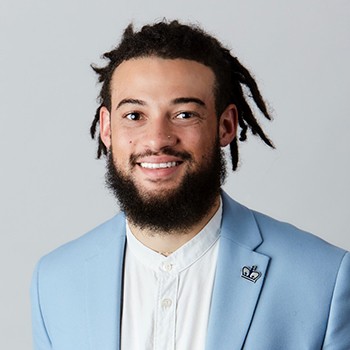 James Harvey Elliott II '23GS (he/they) is from Newark, Delaware, and is majoring in African American and African Diaspora Studies. He has received numerous academic scholarships and awards, notably: selected as a 2022 Truman Scholar, a recipient of the René Plessner Scholar and PALS Scholar at the School of General Studies, and named a 2021 Tamer Center Fellow. As a formerly incarcerated citizen, James since his release has remained engaged in prison reform advocacy outside of the classroom. While at Columbia he has worked alongside the Center for Justice and Vera Institute of Justice.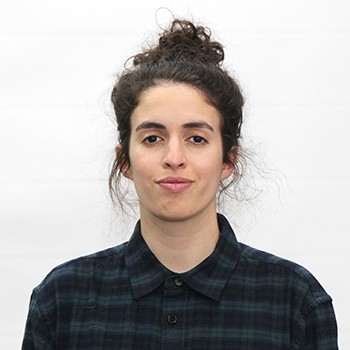 Lealla Solomon '23GSAPP (she/her) is a designer and architecture researcher from Tel Aviv, Israel, and will be graduating with her MS in Advanced Architectural Design. During her time in Columbia, she co-founded the student-led journal PEEL, a digital platform for young architects, and served as the program's teaching assistant in the summer period. Lealla's research focuses on the aesthetics of everyday life, and she believes that political activism approaches for equality and inclusivity rise from the basic epistemologies that humanity encounters on a daily basis in modern society.  Her Master's research work was recently accepted for exhibition at the Jerusalem Design Week, and in the near future, she will serve as a mentor in the upcoming degree cohort.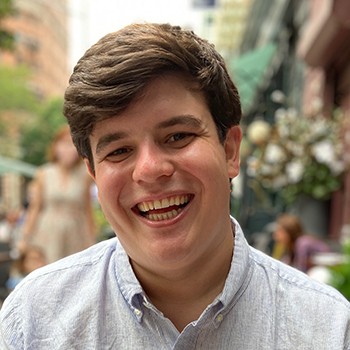 Alejandro Cuadrado '23GSAS (he/him) was born in Guadalajara, Mexico and grew up in Frisco, Colorado. He will be receiving his PhD in Italian and Comparative Literature, with a dissertation on Dante and the history of religious orders. He is a recipient of the Provost Diversity Fellowship, the Brittan Family Fellowship, and the Helen and Howard R. Marraro Prize. Alejandro served two terms as president of the Arts & Sciences Graduate Council, works as a Senior Writing Consultant at the GSAS Writing Studio, and teaches Literature Humanities. He and his wife live in Brooklyn, where they enjoy exploring new restaurants and strolling through Prospect Park.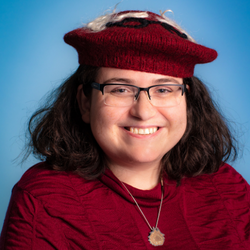 Leslie A. Zukor '23JRN (she/her/hers) is from Mercer Island, Washington, and is receiving her MS degree in Journalism. Zukor is a neurodivergent disability advocate who founded and serves as president of the Columbia Student Disability Network and the Columbia Journalism School Alliance of Journalists with Disabilities. The recipient of a University Life Social Justice Mini-Grant, Zukor is spearheading Columbia's first Disability Affinity Graduation, which is also the university's first all-school affinity graduation. She has also served on the Columbia Health Student Health Advisory Committee and as a J-School Welcome Ambassador. Zukor enjoys watching baseball and collecting historical memorabilia.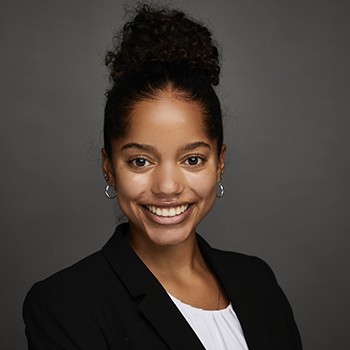 Olivia Dominique Jones Martinez '23LAW (she/her/hers) is from Chatsworth, New Jersey. During law school, she served as the president of the Black Law Students Association and the editor-in-chief of the Human Rights Law Review. She has participated in the Parole Advocacy Project, the Orleans Public Defender Caravan, the Community Advocacy Lab, the SDNY judicial externship, the Neighborhood Defender Services of Harlem externship, the Peer Mentorship Program, and the Clerkships Diversity Initiative. After graduation, she will be clerking for Judge J.P. Howard III on the D.C. Court of Appeals.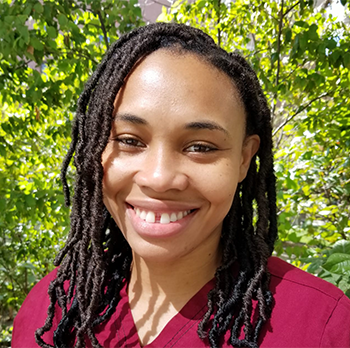 Tka Edwards '23NRS (she/her/hers) is a registered nurse in New York pursuing a doctorate degree in advanced nursing practice with a special focus on family medicine. She is a member of Sigma Theta Tau International Honor Society of Nursing, Greater New York Black Nurses Association, American Nurses Association, Nurse Practitioner Association, and Graduate Student Nurse Association. At Columbia, she was a student ambassador, peer leader, clinical preceptor, and outreach coordinator for the Columbia Student Nurses Association where she led and participated in several volunteer activities, and participated in the Nurse Practitioner Association of New York State Capital Day to lobby New York state legislators on policies that affect nurse practitioners. She has a special interest in primary care, complementary medicine, and cardiology with the goal of increasing access to holistic healthcare for communities. She enjoys travel, self-care, and encouraging others to do the same.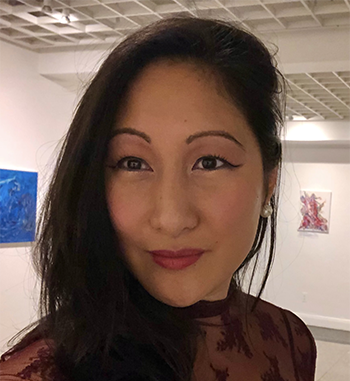 Joanne Michelle F. Ocampo '23PH (she/her) Norwegian-Filipina scientist, artist, and public health practitioner from Løvenstad, Norway, has pursued a Doctor in Public Health (DrPH) at Columbia University´s Mailman School of Public Health. Joanne Michelle was actively involved in leadership during her academic career focused on global health and humanitarian crises, adding to her scholarly achievements: development of a student organization, the DrPH Student Collective, selected as an award recipient of University Life's Social Justice Mini-Grant Program, and as an Interprofessional Education Service-Learning and Community-based Participatory Research Fellow, and engagement as an officer with the School of Public Health´s Graduate Student Association.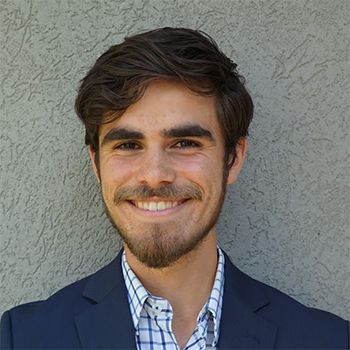 Alexander Moreno '23SEAS (he/him) is from Monroe, CT, and will be graduating with a degree in civil engineering. He is deeply passionate about using engineering to create more equitable and livable cities, in particular through better transportation systems. At Columbia, he was significantly involved in Engineers Without Borders as the co-president as well as the technical team lead for the Morocco and Ghana Chapters. He was also the president of the American Society of Civil Engineers chapter, an advising fellow for Matriculate, and the team captain for the snowboard and freestyle competition teams on campus.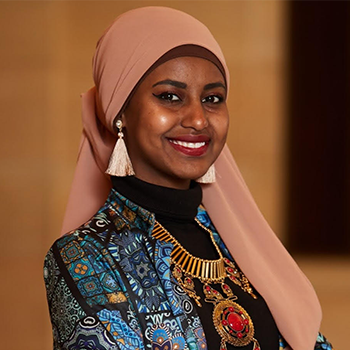 Zaynab Abdi '23SIPA (she/her/hers) is originally from Yemen and Somalia and from Twin Cities, Minnesota. She is a PPIA fellow. She will graduate with her Master of Public Administration in Development Practice specializing in Management. While at Columbia (SIPA), She has been actively involved In the Student Association (SIPASA) as the MAP-DP representative, Women in STEM as the Director of Coalition Building and Community Outreach, SIPA Admissions Ambassador, program assistant in the MPA-DP program and teacher assistant and Peer Advisor. Currently, Zaynab works as Strategy & Futures Fellow with the United Nations Development Programme. Zaynab also worked alongside the youngest-ever Nobel Peace Prize winner, Malala Yousafzai, as a youth advocate for girls' education. She has spoken at the United Nations several times, and her story was featured in several books: Malala's book We Are Displaced (2019), and Our Stories Carried Us Here (2021). She is now working on her first book which will be published in April 2023, Voice for Refugee. Zaynab spends her time mentoring current and incoming students in the MPA-DP program, publishing reports and research, and advocating for immigrants and refugees globally.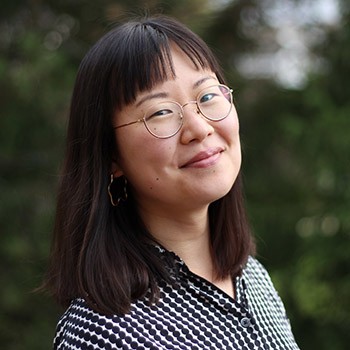 Yoko Kohmoto '23SOA (she/her) is from Okayama, Japan, and Madison, Wisconsin. She is completing her MFA in Film with a focus on creative producing. During her time at Columbia, she has produced over 15 short films and music videos. Her projects have been selected for Vimeo Staff Pick, Palm Springs ShortFest, and Atlanta Film Festival, among others. Priorities in her work as a producer-writer are to build community, ensure safety, and uplift marginalized voices. She is most recently a recipient of the Arthur Krim Memorial Scholarship for Excellence in Producing.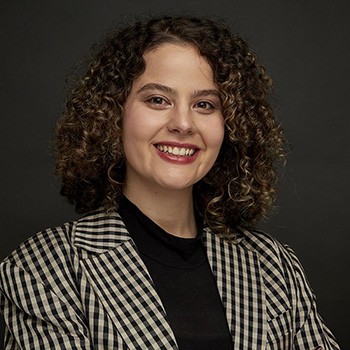 Alexandra M. Bagnasco '23SPS (she/her) is from Long Island, NY, and is a Sustainability Management (SUMA) graduate student. Alexandra has held multiple leadership roles at Columbia, such as the 2022 Climate Symposium co-chair for the SUMA Student Association, Deputy Project Manager for her Fall 2022 capstone project, and member of the Student Leadership Advisory Council of Columbia Alumni Association. During her studies, she also worked at L'Oréal as a Sustainability Co-op and at Verizon as an EDF Climate-Corps Fellow. Alexandra is passionate about employing an ecosystem lens for systemic change, creating an equitable future, and addressing the triple challenge of the climate, biodiversity, and water crises.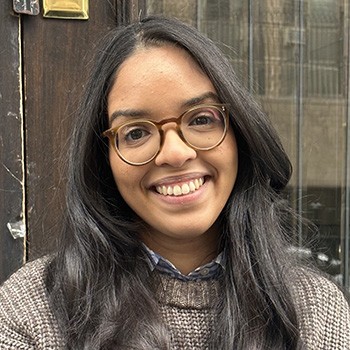 Kauribel Javier '23SW (she/her) was born in the Dominican Republic and raised in Harlem, New York, just a few blocks away from Columbia's School of Social Work where she will receive her MSW. During her time at Columbia, Kauribel has enjoyed working as a graduate assistant in the Office of Student Life, serving her peers as vice president of the Student Union, and meeting new students as an orientation leader. She cares deeply about community building and creating and finding opportunities for others to connect in fun and meaningful ways.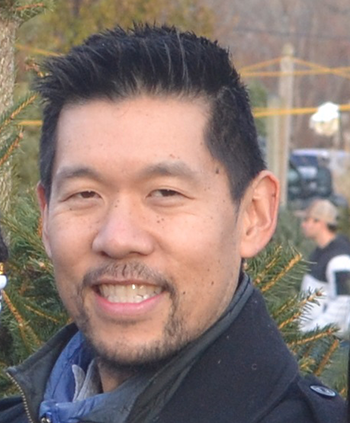 Elliot Hu-Au '23TC (he/him) is from Oakland, CA, and is graduating with an Ed.D in Instructional Technology and Media. Throughout his time at TC, he has enjoyed running the Games Research Lab, presiding over the LearnPlay student club, and exploring virtual and augmented reality uses in STEM education. His research focuses on using VR to assist students in visualizing abstract chemistry concepts and relating them to real-life objects. His most memorable experiences at TC have been meeting with the Board of Trustees to advocate for student-parents and teaching a reflective game design class to juvenile inmates at Rikers Island.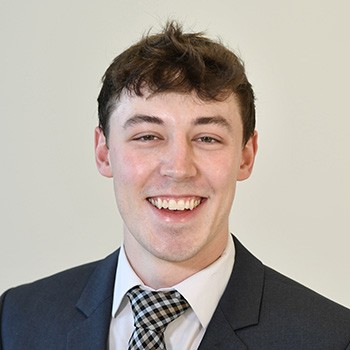 Daniel J. Pohl '23VPS (he/him/his) is from Farmington Hills, Michigan, and is receiving his medical doctorate from the Vagelos College of Physicians and Surgeons. Danny has served as class president for the VP&S Class of 2023, as a director and senior student clinician at the Columbia Harlem Homeless Medical Partnership free clinic, and as a member of several other organizations and committees focused on medical education and health equity. He has recently been matched into a Urology residency at Lahey Clinic in Boston, Massachusetts.