2020 Campbell Award Winners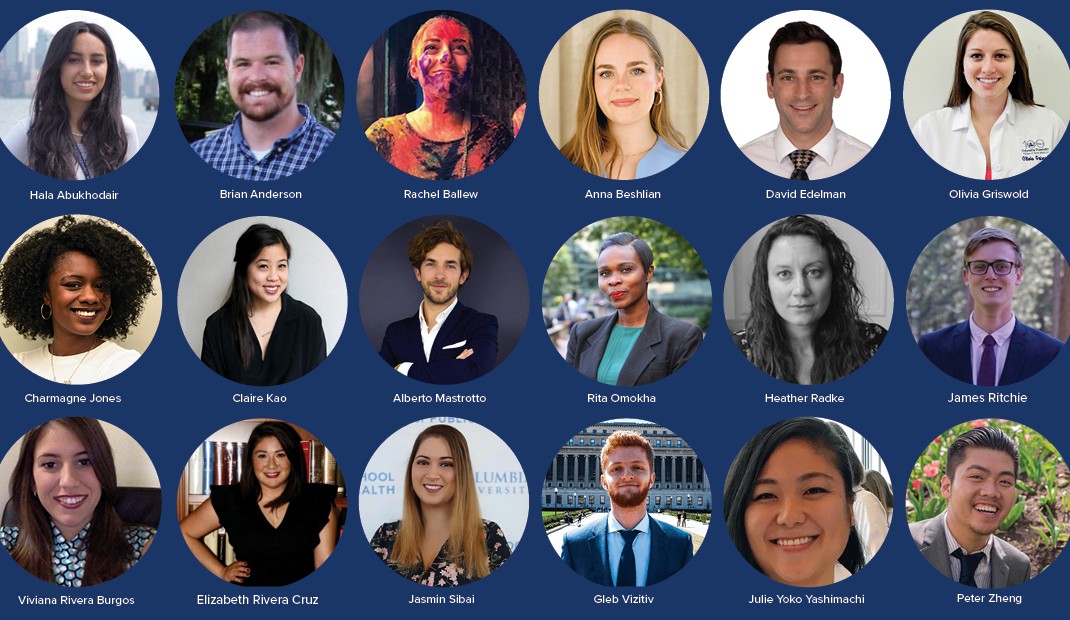 In 2016, the Columbia University Trustees and the Columbia Alumni Association (CAA) established The Campbell Award, which is presented to a graduating student at each School who shows exceptional leadership and Columbia spirit as exemplified by the late Bill Campbell '62CC, '64TC, Chair Emeritus, University Trustee and CAA co-founder.
Congratulations to the 2020 recipients! Learn more about these inspiring, soon-to-be alumni, and be sure to scroll over each image to see a quote from the honoree.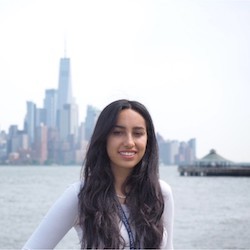 Hala Abukhodair '20GSAPP is from Riyadh, Saudi Arabia and is an architectural engineer with more than three years of experience working in the construction industry across Saudi Arabia, Spain, and the United Kingdom. She earned a Masters in Architecture and Urban Design, following her Bachelor of Engineering focused in Architecture from Prince Sultan University in Riyadh. At Columbia, her efforts included being part of the Program Council, the School's shift towards greater emphasis on sustainability in the curriculum, and was a wonderful ambassador for GSAPP and the University community.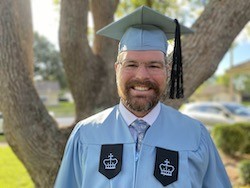 Brian Anderson '20SW maintained his position as Founder and CEO of Veterans Alternative while completing his Masters in Social Work through the Columbia School of Social Work's online campus. Brian retired from the United States Army after 14 years of service as both a journalist and a Green Beret. His experience at Columbia University has given him the tools to lead the organization in reaching the next level of service to the community. Brian serves on several boards including Congressman Gus Bilirakis's Veterans Transition Task Force, a think tank for updating the military to civilian transition process through legislation and collaboration.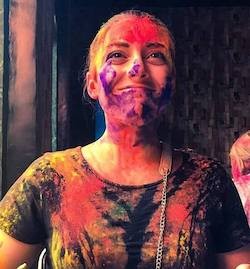 Rachel Ballew '20GS is a Marine Staff Sergeant and Political Science (International Relations) major. Rachel has served in the Marine Corps for ten years as a Female Engagement Team (FET) and Civil Affairs Specialist. She is the President of the U.S. Military Veterans of Columbia University, a veteran mentor, Moody's Scholar, and recipient of the 2019 Agent of Change Award for her impactful contributions to the women veterans community at Columbia. She has worked and studied in the Middle East, studied Arabic and Farsi, volunteered with Engineers Without Borders, and built a water infrastructure system in Morocco. Rachel is currently working at NewYork-Presbyterian Ryan F. Larkin Field Hospital as an Operations Team Leader.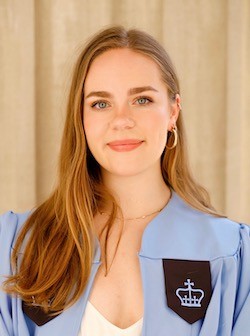 Anna Beshlian '20BC is an American Studies major with a concentration in Criminal Justice and Carceral Studies, planning to pursue public interest law. For her senior thesis, Anna analyzed how forces of surveillance and policing impact tenants in New York City public housing. She is also a NCAA Division I athlete on the Columbia-Barnard Women's Rowing team. For three years, Anna served as a Resident Assistant, working to support upperclass students as they navigated life at Barnard. Anna is from Seattle, Washington.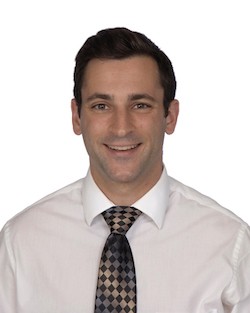 David S. Edelman '20VPS is an MD/MPH candidate from the Columbia University Vagelos College of Physicians & Surgeons and the Columbia University Mailman School of Public Health. Over the last two months, David has helped to found and lead the COVID-19 Student Service Corps, an interprofessional organization of over 1,500 Columbia faculty and students, which serves to support health systems and their patients, workforce, and communities facing the COVID-19 pandemic through student service-learning projects. Previously, David served five years as a student-clinician and one year as the finance chair at the Columbia Harlem Homeless Medical Partnership, a student-run free clinic in Harlem; co-directed the Public Health Commute, an online interactive tool for integrating public health concepts into health professional education, and used this work to develop a preclinical public health curriculum at VP&S. David is originally from Solon, Ohio.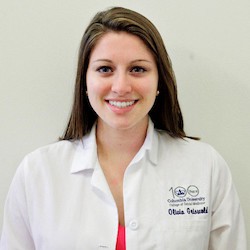 Olivia Griswold '20DM hails from Brewster, New York and has been Vice President of ASDA and HSDA club chapters, Student Government Treasurer, Student Professionalism and Ethics Association Secretary, and served as a Student Admissions Ambassador. She volunteers her time with Columbia's Student-Run Free Clinic, has a strong background in research, and presented at Birnberg Day at the College of Dental Medicine. Olivia has also worked at the Office of University Life on events and has participated in student-led initiatives within the CUIMC campus. She has represented Columbia University at many national and regional conferences.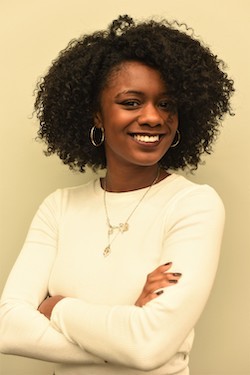 Charmagne Jones '20TC, known by her peers as Cha Cha, is earning a Masters degree in Applied Physiology from Teachers College. She serves on the graduate School's Student Senate as Vice President and works as a Clinical Assistant in the Exert Clinic at Teachers College. She also works with the SKIP! (Small Kids In Physical Activity) program, instructing two-year-olds and their parents to increase physical activity, foster positive parent-child relationships, and combat childhood obesity. Cha Cha also works alongside her peers in the nonprofit initiative, Silence Isn't Surrender, which aims to raise awareness of and support sexual assault survivors. She hopes to combine her passion for health, wellness, and student service working in higher education after graduation.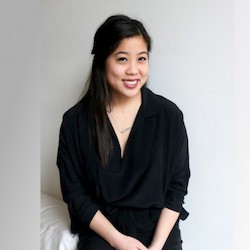 Claire Kao '14SEAS, '20BUS was the Class of 2020 Senator representing Columbia Business School. On Senate, she co-chaired the Commission on Diversity and served as Vice Chair of the Student Affairs Committee. In these roles, she was able to coordinate joint committee support of a resolution to recognize Indigenous Peoples' Day at Columbia and also work closely with University administrators on the University's COVID-19 response. At the Business School, she is active in CBS Reflects, the Real Estate Association, and Cluster Q. Kao also chairs a junior board for the Crime Victims Treatment Center (CVTC), an organization dedicated to supporting survivors of sexual assault and domestic violence. CVTC now facilitates workshops at the Business School and participates in orientation in order to help establish a strong culture of sexual respect at the school. Kao is from Santa Monica, California.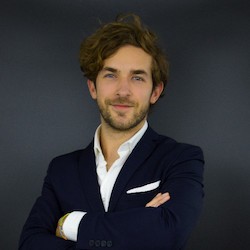 Alberto Mastrotto '20SPS is pursuing his Masters of Science in Applied Analytics at Columbia's School of Professional Studies. After coming to the United States from his hometown in Arzignano, Italy, he found his passion for developing data-driven narratives that help build robust strategies. At Columbia, Alberto's mission is to bridge the gap between academia and the professional world. As President of the Applied Analytics Club and Student Government Representative for the Applied Analytics program, he organized a variety of events to empower the next generation of leaders and improve the student experience. Finally, Alberto partnered with the Career Design Lab and faculty to offer development opportunities to students, helping with the organization of Career Talks and the Knowledge Graph Conference.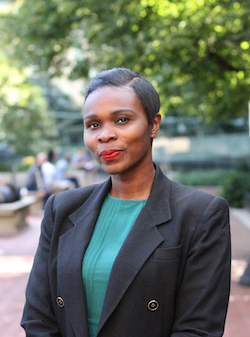 Rita Omokha '20JRN is the co-president of the African Student Association at the Journalism School, which was reestablished to spotlight the intersection between journalism, freedom of the press, and the African diaspora. She's the managing editor of the Covering Religion news site, dedicated to publications from Professor Ari Goldman's seminar. An experienced media professional with a demonstrated history of working in broadcast and digital for CNN, ViacomCBS, and NBC, she is skilled in digital strategy and corporate communications. Rita served a year in AmeriCorps in 2013 and is currently a graduate fellow at NBC News, where she has worked on such projects as the Weinstein sexual abuse scandal and the impeachment trial of President Trump, and assisted on two documentaries. She was born in Nigeria, raised in the Bronx, and now hails from the Upper West Side. She is writing a book on Nigerian immigrants.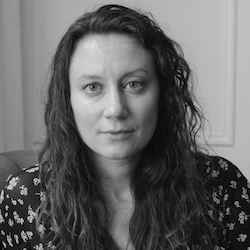 Heather Radke '20SOA is a writer, teacher, and curator who lived in Chicago for nearly a decade before moving to New York. Her work has appeared in The Believer, The White Review, The Paris Review Daily, and Longreads, among other publications. Heather was the Nonfiction Editor of the Columbia Journal and was awarded the Undergraduate Writing Program Fellowship and the Creative Writing Teaching Fellowship. She was the founder of the Writing Department's Incarcerated Writers Program and initiated a school-wide artistic response to the 2016 election.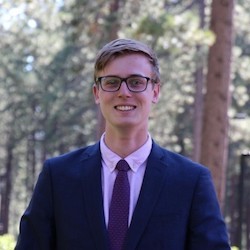 James Ritchie '20CC is President for 2020 Class Council and pursuing a double concentration in Psychology and Art History. As a four-year class president/vice president, James has been a consistent advocate for his peers and his class. He has been instrumental in planning events, assisting with the Senior Fund, and working within the four-school relationship. He is also a dedicated and involved member of Greek life, serving as his own chapter's president and as president and chairman of the Inter-Greek Council Judicial Board. In his spare time, you can catch him watching his beloved Chelsea or Dallas Cowboys. James was born in NYC but grew up in London.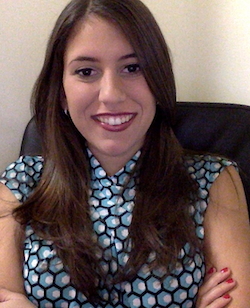 Viviana Rivera Burgos '20GSAS is receiving her PhD in political science from the Graduate School of Arts and Sciences. She specializes in American public opinion and political behavior, particularly as they relate to ethnoracial minorities. She has served as co-chair of the Students of Color Alliance, graduate student mentor to undergraduate students from underrepresented backgrounds in the Leadership Alliance Summer Research Program, and graduate student representative in the Political Science Diversity and Equity Committee. She was born and raised in Mayagüez, Puerto Rico.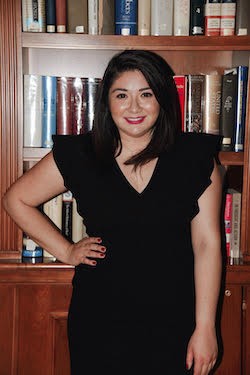 Elizabeth Rivera Cruz '20LAW is from Suisun City, California. She graduated from UC Irvine with a double major in Business Administration and Economics. Realizing she loved teaching, she joined Teach For America in Baltimore. She taught Spanish and earned her Masters in Secondary Education at Johns Hopkins University before Columbia. Elizabeth is the Law School's Student Senate President, the Human Rights Law Review's first-ever Executive Financial Officer, and a member of the Immigrants' Rights Clinic. She has participated and coached in the LaLSA moot court, served on the LaLSA board as treasurer, and taught mock trial to local high school students through the High School Law Institute Program. She is very thankful for the opportunity to work with the Law School's administrators to create a greater sense of community and looks forward to continuing to do so as an alumna.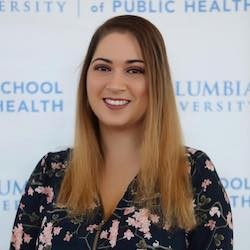 Jasmin Sibai '20PH is an Epidemiology graduate student in the Public Health and Humanitarian Action Certificate program. Before coming to Columbia, she served as a Research Assistant at the University of Miami, where she published a breast cancer study. Jasmin is also the recipient of former President Obama's Presidential Volunteer Service Award. Currently, Jasmin serves as the President of Humanitarian Organization of Migration and Emergencies and is engaged with the Puerto Rico IPE Service Learning Pilot Project in analyzing the prevalence of childhood asthma in the G8 communities in San Juan, Puerto Rico, post Hurricanes Irma and Maria. Selected as a Lerner Center Service-Learning Fellow, Jasmin will serve as one of the leaders in disaster preparedness efforts and disseminating a comprehensive report to community partner Proyecto ENLACE. Her family's personal refugee history is a driving force for Jasmin's passion to take action and perform service in humanitarian settings.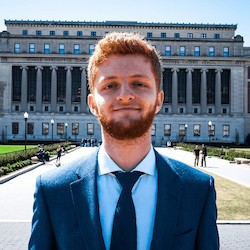 Gleb Vizitiv '20SEAS, a recipient of the C. Prescott Davis scholarship, was a rising star in his native Moldova long before he came to New York. He won the silver medal at the International Physics Olympiad and invented a smart heat-filtering glass, which placed at the Intel International Science and Engineering Fair. Over the past four years at Columbia, Gleb has conducted machine learning research with renowned AI researcher Professor Salleb-Aouissi and taught as a TA under Professor Vallancourt. He is the Co-President of the Columbia Engineering Senior fund, served on the CAA's inaugural Student Leadership Advisory Council, and co-founded the Columbia Quant Group (CQG)—Columbia's premier quantitative finance student organization. He takes pride in CQG, for which he spent his time teaching quantitative finance, mentoring students, and connecting dozens of prominent members of the financial industry with Columbia's talented student body.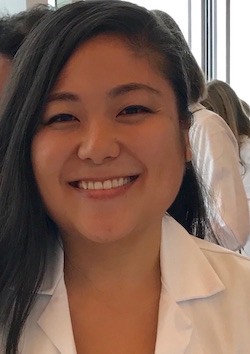 Julie Yoko Yoshimachi '17NRS, '20NRS is a family nurse practitioner in New York City. Julie served as University Student Senator and as Vice Chair of the Campus Planning and Physical Development Committee. She was the founder and executive board member of the School of Nursing Student Council. Julie has been a peer leader, peer mentor, and annual fund volunteer. She hails from San Bruno, California and Rockville, Maryland.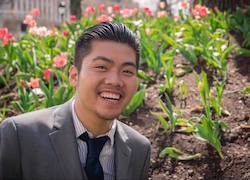 Peter Zheng '20SIPA is concentrating in Economic & Political Development and Urban & Social Policy and triple-specializing in East Asia; Management; Technology, Media, and Communication Studies. Pete graduated from the University of Pittsburgh Honors College with quadruple majors, Magna Cum Laude, in Economics, Political Science & Government, Business Administration, and a Bachelor of Philosophy, Summa Cum Laude, (masters-level degree) in Psychology within four years. Pete is a member of the Board of Directors for the Jericho Project and Bronx Arts Ensemble and is a member of the Professional Advisory Council for Literacy, INC, and an alumni board member for Pitt Honors College. His academic research is published in international journals and cited in early childhood education books. He's a proud first-generation college student and son of hard-working Chinese immigrants. He hails from Pittsburgh, Pennsylvania.